What we want to solve?
Making Modern Wellness Easy
alchemypet is a premium dog food topper brand committed to transforming the way we nurture and care for our beloved companions.
Our mission is to enhance the well-being of pets through innovative products, technology-driven solutions, and a deep understanding of animal welfare.
Modern Tech
Microencapsulation Formula Tech
Microencapsulation has been shown in multiple trials to increase the absorption of nutrients by anywhere from two to five times compared to standard pills and powders.
Ingredients are put into microscopic size beads that are then coated in an all-natural shell made from seaweed which means more of our healthy ingredients are absorbed by your dog leading to maximum effectiveness.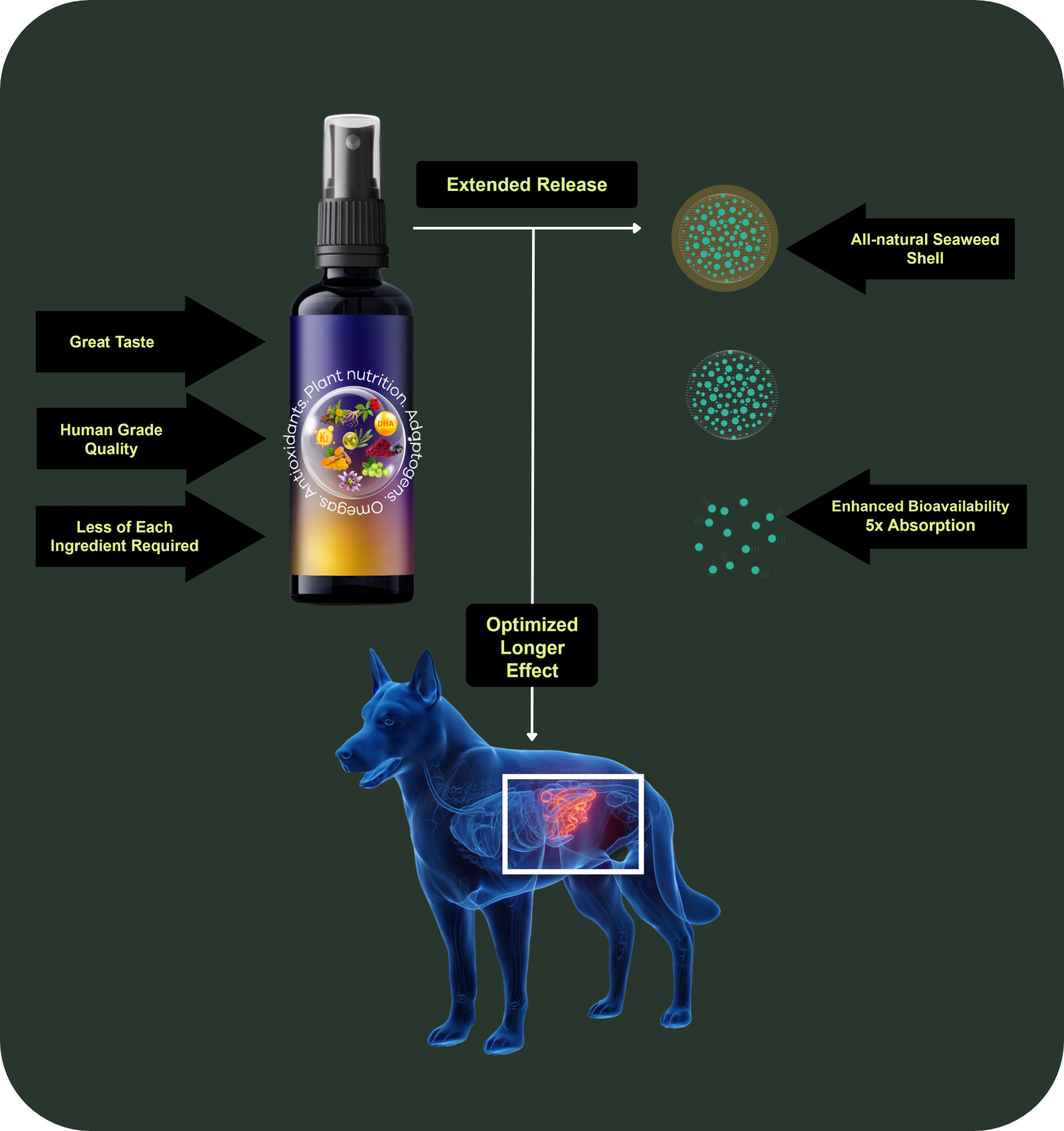 What we do
From Astaxanthin To Zeaxanthins
The A-Z of: Whole Health Wellness
By blending cutting-edge advancements with innovative formulas, alchemypet revolutionizes dog nutrition with dog food toppers delivering the highest standard of nutrition and promote whole health wellness.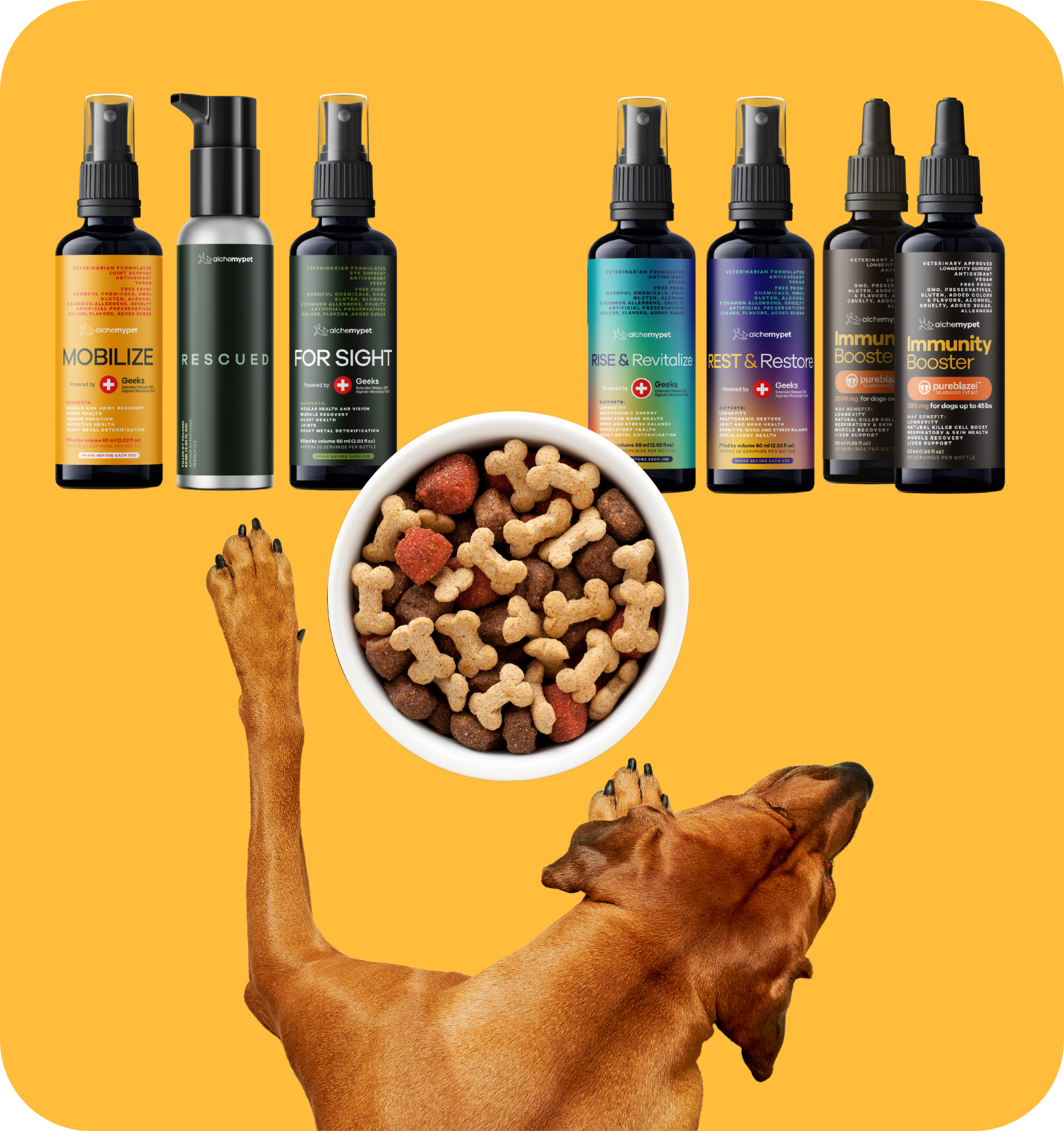 Sustainably sourced Ethically Produced
Recycled & Recyclable packaging
alchemypet recognizes that every business needs strong ESG policies to minimize environmental impact so we, at our core, are making products that don't just benefit our pets but also measure and minimize our environmental footprint at every possible step.
Success stories
Sara Ochoa, DVM
As a veterinarian committed to animal health, I am happy to be writing my support for the alchemypet Immunity Booster, containing organic Agaricus Blazei full spectrum extract. It is exciting to see a chemical-free extraction process being applied to the most powerful medicinal mushroom on earth. The liquid form enables this product to be absorbed into the pets' system better than powders or capsules, and the full spectrum complex results in a high number of synergistic compounds including polysaccharides. Thus, providing a boost to the immunomodulatory response, which this mushroom does better than any other natural product. Enhancing the natural killer cell production provides enormous benefits to the pets' immune system response capabilities. Looking forward to seeing more eco-minded innovation in preventative pet health from alchemypet!
Andrea
My 15 year old Maltese/Yorkie has arthritis and skin allergies that can cause discomfort irritability. He has been on apoquel on and off 4 years to ease the itching and although it helps, I was looking for a more natural solution. I started giving him the  Immunity Booster a month ago and have already noticed an increase in energy! I haven't given him apoquel in over a month and he isn't itchy or irritable. It's such a relief to find a natural solution that helps him feel like a puppy again!
Lance Montgomery
I have been feeding it to my 13-year old Luca for over a week and I have seen dramatic changes to overall health and am so supportive of the product! This has been life changing for my pet.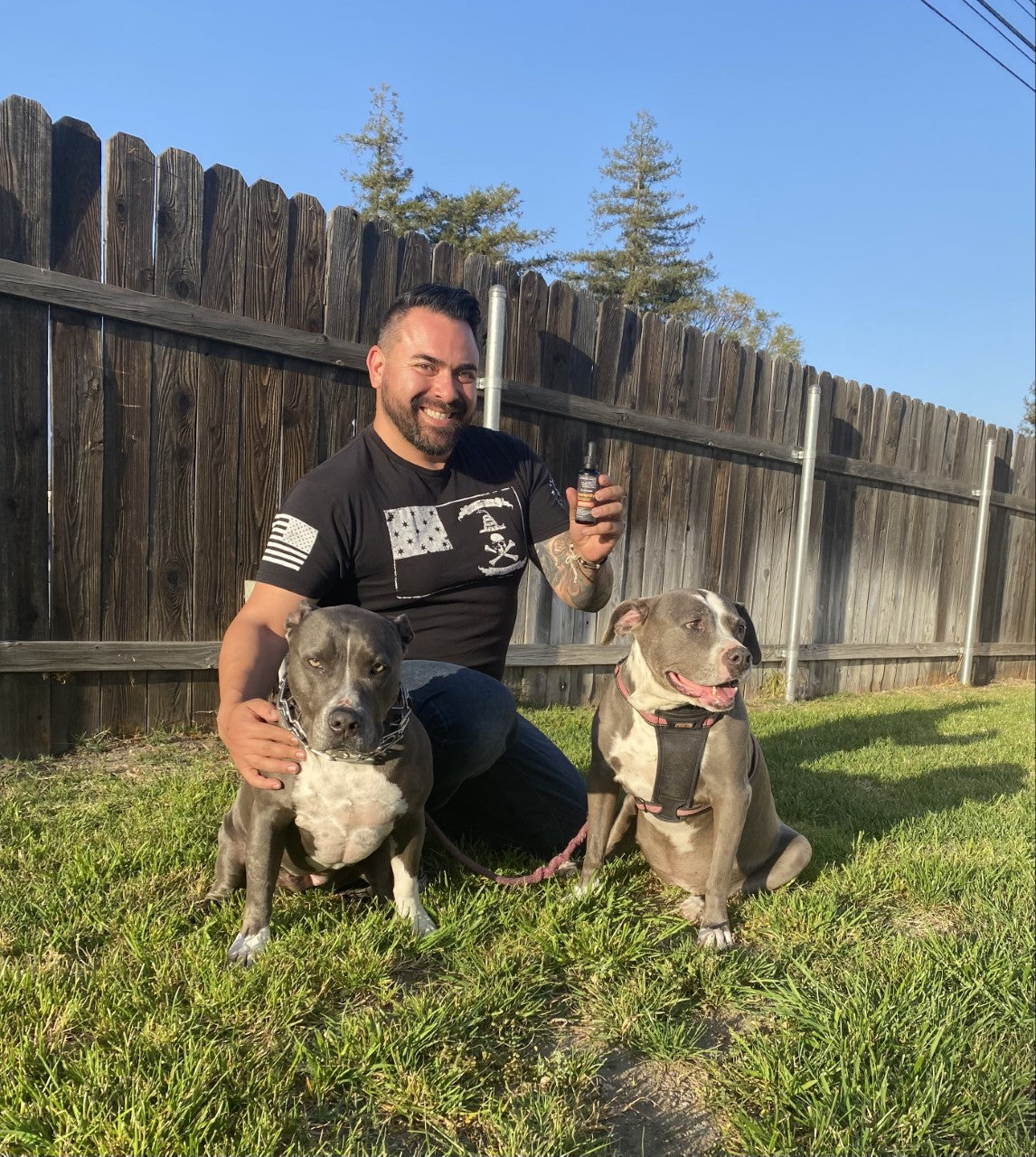 Abraham Roel
Myka was a gift from my Mom when I came out of the army which began my love for dogs. Have been looking for a way to address Myka and Gracie's health proactively and came across this immunity booster and was fascinated by the science behind this mushroom's ability to mobilize natural killer cells. Surprised by how much they enjoy the flavor as are picky eaters!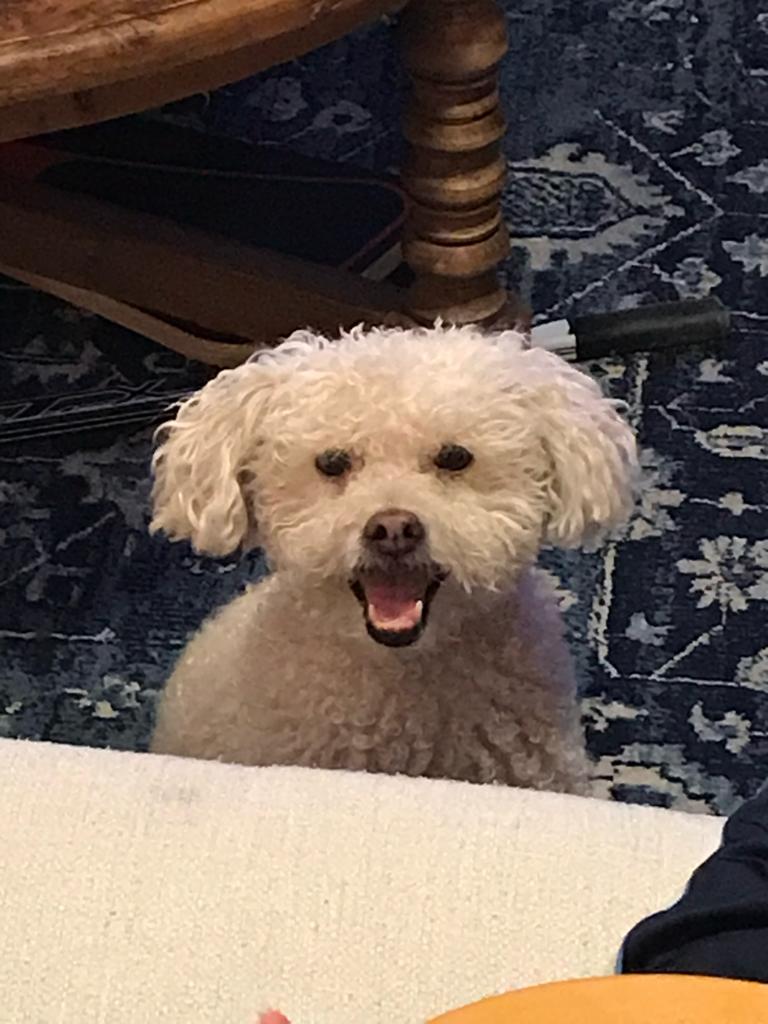 Pamela Wirth Barnhill
Thank you alchemypet! My dog Tessie has been on Valley Fever medicine for years and slowly getting worse including only being able to walk on 3 legs and I can noticeably see her feeling better. She is now walking on all 4 legs again. Thank you!😍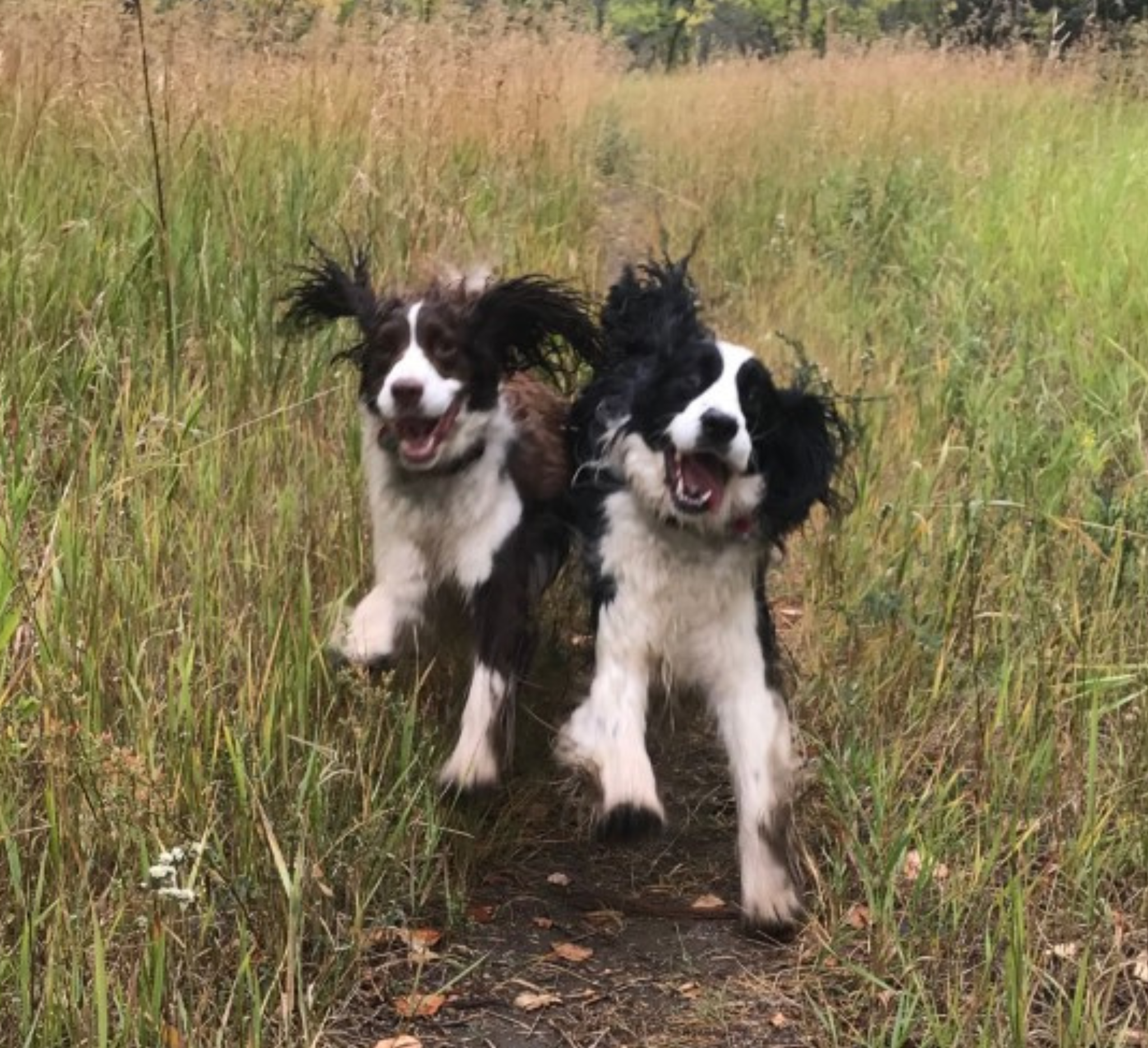 Lori Leach
Overall, I've been quite pleased with For Sight as a supplement for my springer spaniels, Abby and Jake. After getting a warning from my vet about the common issue of eye degeneration in this breed.

Although it's still early days, I do feel that For Sight has been effective. The supplement is also really easy to administer, and the dogs seem to enjoy the flavour, making it an easy addition to their routine. I appreciate that the label content is clear and informative, giving me confidence that I'm providing my pets with the best possible care. Overall, I'd definitely recommend For Sight to other dog owners looking to support their pets' eye health.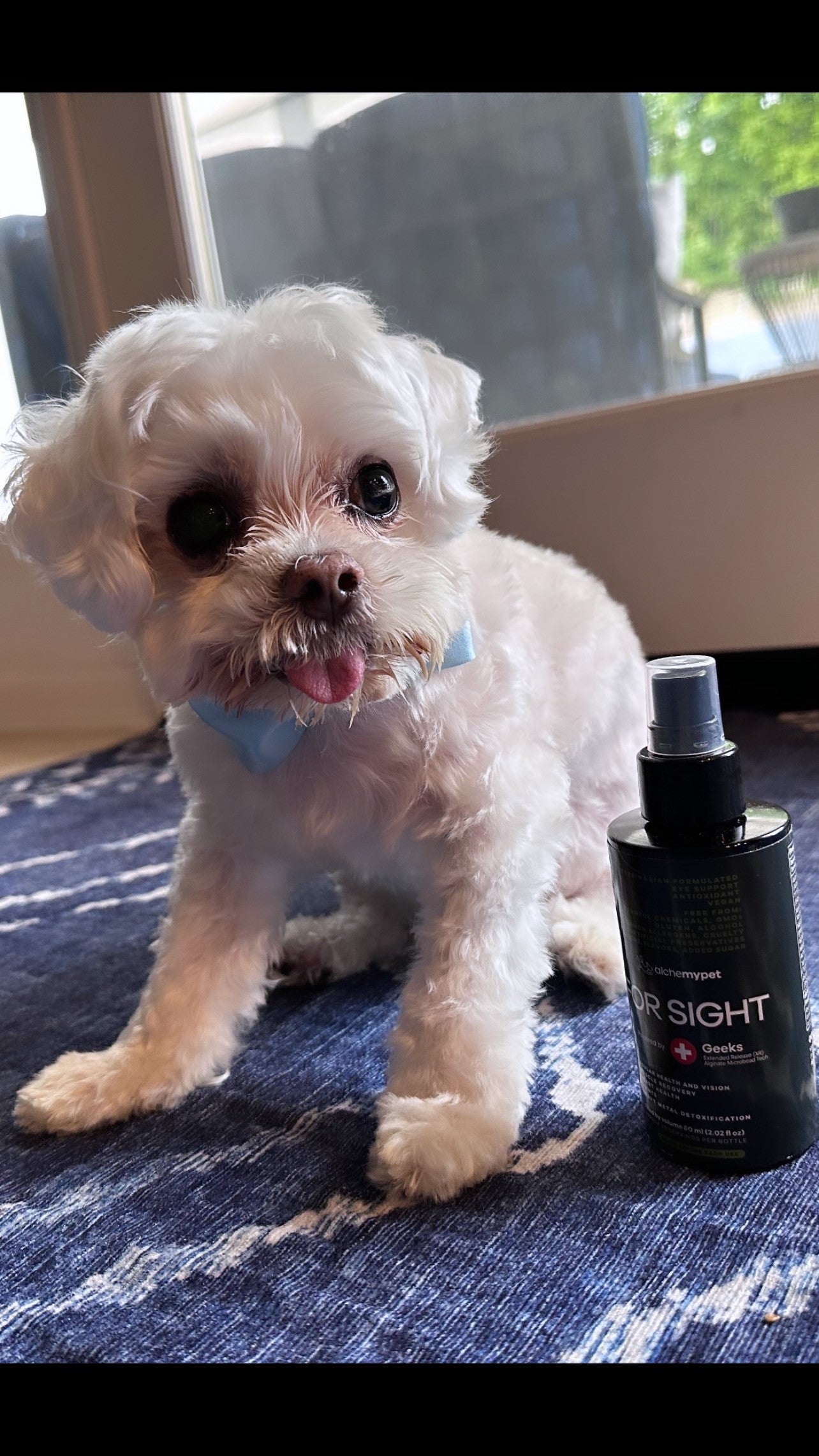 Ripsime Arakelyan
I genuinely feel like this spray has helped my pup get some of his vision back, or possibly slowed down the effect of him going completely blind. About a month or so after using the For Sight spray we started noticing that he would look straight at us and that gave us so much hope and joy!!! Would recommend 1000%.
Have any questions?
It's a process by which ingredients are put into microscopic sized beads that are then coated in an all-natural shell made from seaweed. This allows more of the active ingredients in the beads to enter your pet's system so that more of our healthy ingredients are absorbed by your pet leading to maximum effectiveness.
An active ingredient will exert its beneficial effects on the body only upon binding with the receptor it has an affinity for. To get from outside the body, through the digestive system, through the bloodstream, and finally to the target receptor is a long journey. Microencapsulation has been shown in multiple trials to increase the absorption of nutrients by anywhere from two to five times compared to standard pills and powders. When it comes to agaricus blazei mushroom extracts, the liquid form is known to be the easiest for the body to absorb and process. In addition, the liquid form is also more palatable to pets. Unlike capsules, there is no need to force-feed dogs. It also gives a milder flavor when compared to chewable and powder.
alchemypet's fortified dog food toppers are free of harmful chemicals, GMOs, the 9 major allergens, artificial preservatives, colors, fillers, and no added sugar bringing clean multi-ingredient formulations to elevate the outcomes in global pet health care.
Yes. alchemypet integrates the finest elements of both EASTERN and WESTERN conventional medicine, along with an acclaimed microencapsulation technique, to optimize the efficacy of supplements. This results in superior benefits for dogs, extended release of ingredients, and elimination of undesirable taste or scent. These products are not only safe, effective, and convenient but also of human-grade quality.
alchemypet's first product is a booster designed to address one area of your pet's health with the most powerful medicinal mushroom known.  We are also developing a line of multi ingredient formulas in the new year that will deliver industry leading 360 degree wellbeing.
alchemypet values not just the pet's health but also the environment. Our bottle is a Miron violet glass, a type of biophotonic glass in which its natural ability to block light can protect the contents against sunlight thus increasing the product's shelf life and effectiveness. Our bottles are 100% recyclable and so with the boxes and poly mailers we use in packing our products. For shipping, we consider 100% carbon neutral shipping service. Our company ensure sustainability and the reduction of environmental impact and footprint.
Anyone who has experienced their pet getting sick knows the toll it takes on one's emotional wellbeing and bank account. While it is impossible to guarantee that a pet will be healthy and happy 100% of the time, there is a lot pet owners can do to keep the odds as low as possible. Routine vet check-ups, vaccinations, deworming, proper diet and exercise, and supplementation are all important components of preventative animal health. The saying "an ounce of prevention is worth a pound of cure" applies to pets too!
Convenience in application, simply pump, spray or drop on your dog's favorite food, full of bottles & bottles worth of nutrients. Given daily, with the amount depending on the pet's body weight.
Yes, these products are batch tested by a 3rd party laboratory. 
Yes, our dog food toppers are veterinarian-formulated. However, if your dog is currently taking medications, has dietary restrictions, or is undergoing therapy for underlying conditions, it is best to check with your veterinarian before introducing supplements of any kind.
Agaricus blazei Murill mushrooms can help keep your dog's immune system healthy. Its antioxidant properties can help slow down degenerative problems associated with aging. 
In our ongoing commitment to sustainability we are beginning the transition with our new product from glass, which has carried decreasing recycling rates in the USA, to aluminum (containing an FDA approved food safety liner), and which recycles at a rate 2 times better than glass.  The new pump design provides a more convenient application with fewer pumps vs sprays and cleaner delivery.  This move not only aligns with our values but also enhances brand image among environmentally conscious consumers.
Treat yourself to our Instagram feed!
---